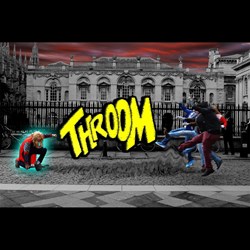 (PRWEB UK) 2 November 2013
Four international students enjoyed the experience of a lifetime at the world premiere of Marvels Thor: The Dark World after dressing up as the god of thunder to win a photo competition.
The winning quartet from Italy, Brazil and Venezuela were chosen out of thousands of English language students to walk the red carpet with Natalie Portman at Odeon Leicester Square in London and watch Marvel Studios latest blockbuster with the films cast, crew and celebrities.
Ernano Molino, 23, from Italy; Rafael Fraga, 23, and Dalila Simila, 25, from Brazil; and Maria Fernanda Rivera, 18, from Venezuela won the photo contest, which challenged Kaplan students to dress up and recreate scenes from the films trailer.
Hundreds of students, from Kaplans 11 schools in the UK and Ireland, wore Thor costumes and wielded their replica Mjolnirs in locations ranging from Tower Bridge in London to Calton Hill in Edinburgh and Christchurch Cathedral in Dublin.
A panel of judges including representatives from Marvel and Kaplan had hundreds of entries to choose from but decided on the action shot in front of the University of Cambridge due to photos energy and vibrancy.
The triumphant foursome became the envy of their fellow students by being chauffeur-driven from Kaplans school in Cambridge to the red carpet in central London for an exciting evening of glitz and glamour that they will never forget.
Ernano, who dressed as Thor in the winning photo, said: Im a huge fan of Marvel films so I was totally speechless when I found out that I won! It was so much fun dressing up as Thor with my friends but I never expected to actually win. Traveling from Cambridge to London in a limousine, walking on the red carpet and seeing the stars of the film was the experience of a lifetime.
Four students from Kaplans school in Bournemouth were chosen as runners-up and won tickets to watch a special preview screening at Odeon Leicester Square in London to see Marvels Thor: The Dark World before its UK release date of October 30th.
Martin Hofschroer, Content Strategist at Kaplan International Colleges, said: Kaplan students are a talented bunch so it was no surprise to see so many great photos. This was a really fun competition to run and were so happy to give the winning students an evening theyll treasure forever.
More photos and details of the students world premiere experience and the photo competition are available on this page.
About Marvels "Thor: The Dark World":
Marvels "Thor: The Dark World" continues the big-screen adventures of Thor, the Mighty Avenger, as he battles to save Earth and all the Nine Realms from a shadowy enemy that predates the universe itself. In the aftermath of Marvels "Thor" and "Marvels The Avengers," Thor fights to restore order across the cosmos…but an ancient race led by the vengeful Malekith returns to plunge the universe back into darkness. To defeat an enemy that even Odin and Asgard cannot withstand, Thor sets upon his most dangerous and personal journey yet, forced into an alliance with the treacherous Loki to save not only his people and those he lovesbut our universe itself.
Starring Chris Hemsworth, Natalie Portman, Tom Hiddleston, Stellan Skarsg